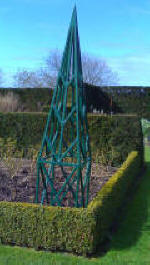 ROBERTS ENGINEERING
also offer's to provide small individual steel products that the larger steel fabricators will not readily undertake.
This page outlines such work as signage towers and frames for retail parks, portico's and feature columns for retail and residential buildings, Ornamental landscape design structures for both the domestic and commercial gardens.
We are available to consider each individual request on its own merits whether constructed from mild steel, stainless steel or Aluminium. The photograph's on this page display a general concept of our work portfolio.